Monday, July 25, 2005
Contest, Weekend and Spinning
First things first, I've hit a wall trying to come up with a name for my new sock design. I prefer not to name my items with people names unless they have some historic or literary meaning. Asking friends and loved ones, most say something like "It looks like shingles" or "I dunno, trees or something."
Neither of those options make for an appealing sock name.
So, please leave your suggestions for sock names in the comments of this post. The winner will receive a prize, as yet to be determined. Make sure you leave a means for me to contact you in case you are the big wiener.
Sock number two is well on its way to completion as you can see below.

I'm just turning the heel now so I'm very close to the "willy warmer" stage.
And a while ago
I mentioned
getting some free roving from
Greenwich Yarn
in San Francisco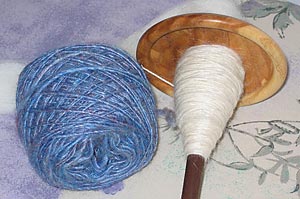 I haven't spun it because I've been spinning the delicious fiber that
Linda
gave me when she was my secret pal. That yarn is now singles, ready to be plied, but while it was bathing and drying I started in with the mystery fiber from Greenwich. Let me tell you, this stuff is a breeze to spin. I can't believe it. It seems to have a very long staple, but it's easy to draft and just sort of flows along. It's definitely wool, slightly coarse, but not unpleasant. I like it. I'm also thinking of trying a bit of dying with the stuff.
And speaking of getting stuff, the
publisher
of this book: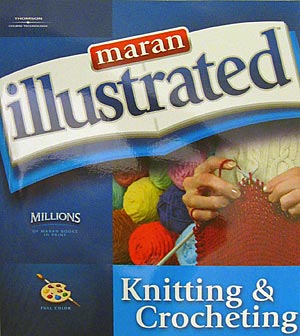 sent me a free copy. Cool.
Obviously, if I got the book for free, you can take my review with a grain of salt, but if I were a brand new knitter or if I were picking out a book for someone who was learning to knit, I think this would be a great choice. There are lots of huge pictures and illustrations and a few projects to complete. I think the projects themselves are OK, nothing that struck me as really unique or timeless, but the tutorials are excellent.
Now for something completely different
I just thought I'd throw in a few cute pictures from our adventures in downtown LA this weekend. Mostly, I like them because my Leo looks so handsome. Awwww.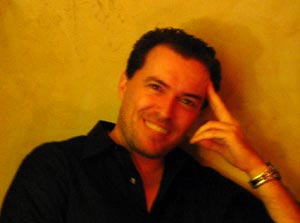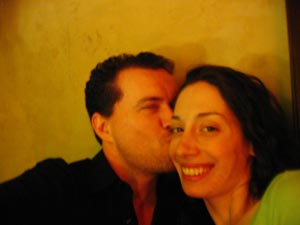 We caught a drink in Santa Monica, where I had a tropical "martini" drink made with some sort of apricot brandy, vodka and something else fruity.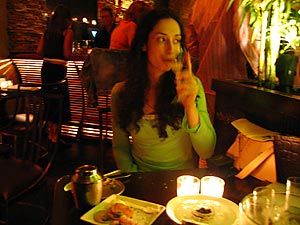 Garnished with an edible flower.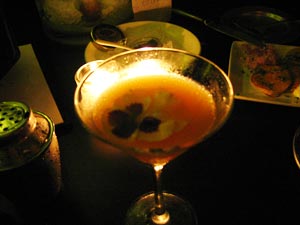 Leo had a Vodka sampler that kind of sucked, but none of the pictures really came out well enough to show.
The next night we went to Arnie Morton's and I snapped a pic of the table decoration for my mom, who loves pigs. I don't think they serve pork there so I guess the pig is so happy because he has nothing to worry about.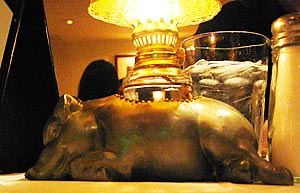 And here is the yummy chocolate "Godiva" cake. We had to order before dinner and I suggested just one that Leo and I could share. He insisted we order two.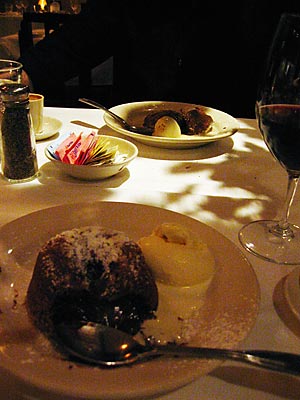 This is how much was left when we were both full to the point of wanting to puke.
At least Leo loves leftovers.