I'm a filthy liar
Do you remember when
I said I wouldn't buy any yarn
? You knew I was joking, right? Haha, funny stuff, I say.
In my defense, it is
mostly
for a present
I like to have a little extra, just to be sure I have enough of the right dye lot
.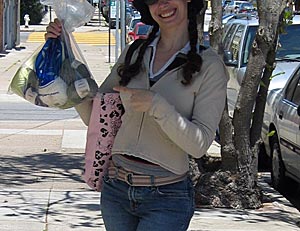 I bought the yarn at
Greenwich Yarn
. I wanted to get some Rowan Calmer for the project I had in mind, and I was sure they had it. They did. I blame
Julia
, she hooked me up with my first Calmer fix and now I think about it all the time. I'm pretty sure I have plenty of it by a factor of two
dye lot, remember
so I can make myself something pretty as well.
Actually, the staff at Greenwich was very nice. My mom asked them about local roving suppliers and the owner gave me a bunch of roving she had sitting around. Apparently, no one there spins and a supplier had sent her some roving by mistake. It's undyed, which means I can experiment with color and texture in one go. Want to see how horribly I can bastardize some animal fiber? Stay tuned, my friends.
Well, despite what you may think, my trip to San Francisco was more than roving and Calmer, there were myriad adventures and pictures to prove it, but I've been on a lazy schedule of vacationing, and am attempting to re-acclimate to my early morning work schedule, so pictures will be a few days away. Stay tuned.