The call of The Corset
For someone who has written quite a few patterns, I've followed very few, myself.
Once I realized how easy it is to design my own patterns, it seemed unnecessary to go off and follow someone else's. But the lure of Annie Modesitt's
Corset
has just been too strong, so I went stash diving and dug in.
My first thought was to use some more of the Calmer I had around. It's soft and worsted weight and would make for a delightful fabric to wear against one's skin. It shows cables and ribbing nicely and is a joy to knit. But, I didn't have enough of a single color and the colors I have wouldn't combine well for this type of design.
That's when I realized I still had 5 balls of Filatura Di Crosa Brilla. This was part of an unbelievable generous gift from
Miss Julia
.
Now, Brilla is advertised as a fingering weight yarn meant to be knit on 3 MM (somewhere between a US #2 and US #3) needle. The corset calls for worsted. You might think I'm plum loco, but I think the Brilla is easily a DK weight, and knit on a 4 MM (US #6) needle, I get gauge and a lovely result, so off I went.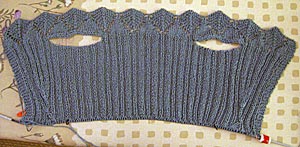 Here she is laid out flat (more or less). The piece is knit top down and in a single piece.
I'm really not doing the yarn justice. Now that I get up at 4:30 AM, I don't see much sunlight. It's actually a soft blue gray, with a subtle sheen.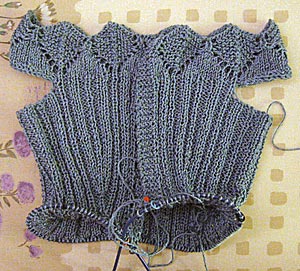 And here she is sort of it folded as it'd be worn. I think you can also see how the ribbing aligns with the details of the lace which I love.
Things I like so far:


The lace cups in slightly at the top so that it sits nicely on the shoulders


There are no seams


Pattern is easy to follow with both charted and verbose instructions


Placket is knit as part of piece


That thing I mentioned about the ribbing melding perfectly with the lace


Has been easy enough to work on the bus even when people try to talk to me


Because it's knit from the top down, I've gotten to try it on a couple times which makes me love it more


This is two and a half days worth of knitting, I just can't put it down.
Additionally:
My heart goes out to England. What a horrible event. I send my most sincere wish for health and safety to everyone. My condolences to those who have lost loved ones. My thoughts are with you.