First Day of School
So last night, I had my first class at
Otis
. I was riddled with self-doubt before the class, wondering if I had just wasted several hundred dollars on a course meant to be taken in conjunction with a fashion major. Would everyone there be a fashion student with natural artistic talents? Would I feel frumpy and boring? I just didn't know what to expect. I have a tendency to psych myself out about these things, which can manifest itself into apathy, but I held strong and went to class and I'm so glad I did.
Our instructor is
Leah Walton
who has a several decades long career in fashion, starting with modeling and then quickly moving into a self taught business of knitwear fashion design. She had other jobs as well, from what she said, including rodeo cowboy and motorcycle stunt woman, you know, normal career changes. The other students in the class ranged from fashion students and fashion professionals to grandmothers, grade school teachers, and hobbyist like me. If first impressions are worth anything, everyone seemed wonderfully friendly and good natured.
Much to my pleasure, day one saw us casting on and zipping out rows of stockinette. Wanna see what I did?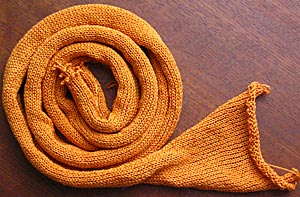 That's about 450 rows of stockinette stitch, 40 stitches wide, done in about a half hour's worth of knitting time.
We were shown demos of doing eyelets, full fashioned hems, faux drop stitch effects, and ribbing. Most of these techniques are more manual than you'd expect. We didn't have time to try those, but I think I get the general idea.
Now, I'm as much a process as a product driven knitter. I love knitting for knitting and I don't think this class will ever change that, but I do love the idea of being able to execute a vision I have in an evening instead of a month. I guess it's the two aspects of my knitting habit. On the one side, I love to pass the time, slowly producing something with loving care, finding ways to perfect little techniques and learn new ones. On the other hand, I love to design knitwear, but I sometimes don't know if the piece will be successful until it's completed which can take months, depending on a myriad of factors.
But, I've only completed the first class and there are nine more to go before I'll be able to call myself a semi-expert.
Getting back to the normal content around here, I have been doing some spinning with my beautiful blue roving.
My first 2-ply ball is too loosely spun, by my taste. It softness is unbelievable, but it's a bit sloppy for my taste.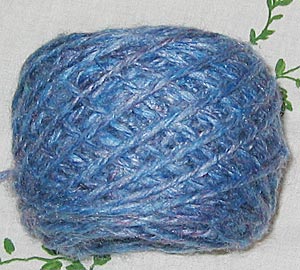 I can't stop spinning, though, so here's the newer, more tightly spun go at it, on the spindle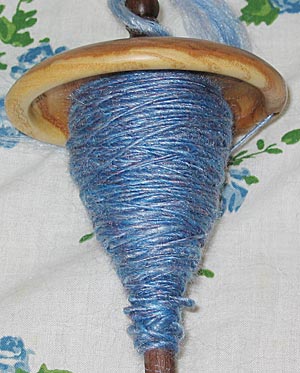 When it's more tightly spun, it's got a nicer sheen, while when it's more loosely spun, it's softness is enhanced.
All other knitting is top secret right now, but I hope to have more to show soon.