Right, "drop" spindle
It's humbling to try something new. It's not that I thought the first go would be easy, that's why I ordered some practice roving, it's just that I didn't think I'd manage to mess it up this badly: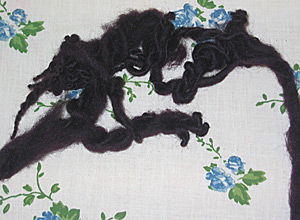 But I do a lot of teaching in my line of work, and if there is anything I've learned, it's that you cannot give up after your first try.
So above was day one. It's lumpy, it's bumpy, it couldn't even pass for "novelty" yarn. It's just a sad state of affairs.
Day two and three got a bit better:

I know the roving is dark, so it's a bit hard to make out what you are seeing, but it's definitely looking a little more like "yarn" now.
I'm nervous about trying to ply, more because I think some bits of this first go are quite thin and likely to break as the twist loosens a bit. I suppose it can all be dealt with, but I still foresee some challenges.
I actually bought the same amount of the same kind of roving in a light lilac color. I wanted to spin an equal length of that yarn and make a tweedy purple two ply.