I like it lilac
I decided to spin a little of my lilac fibers last night.
I was spinning along just fine, off in a corner, far from breakable items. Leo looks over to me at one point and says "You know, they make machines that do that."
Cute, no?
I'd actually spun quite a bit of my lilac roving but had a bit of a drop spindle calamity. I was spinning along when I had one of my regularly scheduled uncontrolled drops, only this time, the contents of the spindle made a run for it. I guess I had so much twist on my poor little fibers that the resulting bird's nest was irreversible. C'est la vie, I guess.
Being the persistent girl I am, I got back on the horse and spun some more.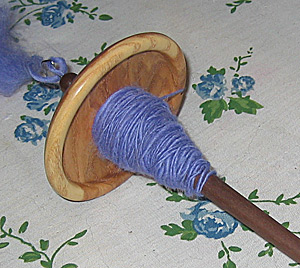 As you can see, it's definitely not going to be mistaken for professionally spun yarn, but it is getting a bit better. The
roving I chose
was indicated as being "easy to spin" which I think has been one reason I haven't gotten too frustrated. I can only imagine what my yarn would look like if I'd chosen a more challenging fiber.
By the way, I love it when you all throw suggestions my way. Since I don't have any friends who spin, I feel like I'm flying solo here. It's obviously not rocket surgery, but there's some coordination and technique involved that just doesn't come naturally.