How Revealing
Well,
SP4
is over. It seemed so quick. It was my first time doing one of these secret pal thingys and I had a great time of it. We did the whole "reveal" this weekend. I was secret pal to
Erin
who was patient with the fact that I'm a bit dorky and revealed myself too soon and didn't check my super secret email address very often. My secret pal was
Linda
who totally spoiled me. Wanna see what she got me?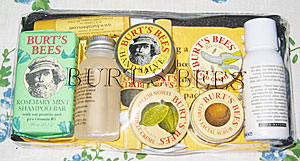 First there's this killer selection of Burt's Bees products. I love this stuff. I used the shampoo bar, lip balm, and hand salve yesterday.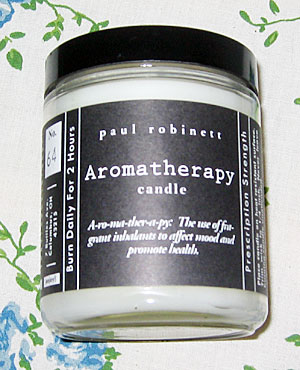 And I did so while burning this great candle. It's Hawaiian White Ginger scent and it's lovely. I'd been burning the other candle she got me, during my daily bath but now I have two scents to choose from.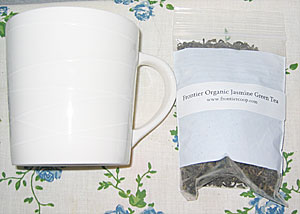 And check out the mug and tea. That's Jasmine Green Tea, and a perfect tea mug. I don't know if Linda's been stalking me or something but I've recently switched from drinking oodles of coffee to drinking oodles of tea. How timely!

This is one of those eye masks you throw in the fridge and make all the puffy and stress go away. You gotta know this is going to get used. Is anyone else sensing that I'm going to be pampering myself?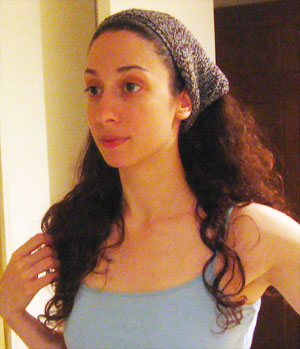 But I'm really excited about this. Linda knit me a cute little kerchief. I love it. It's knit from GGH Molina and it's great. There's just enough spring that it holds nicely to my head without sliding off or giving me a headache. The colors are right up my alley, too. It's shades of brown, blue and white, all my favorites. Sorry about the crappy image.
Here's
a picture of it laid out flat. And
here's
a close-up of it.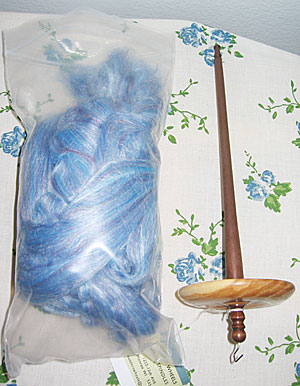 But this has me more excited than anything. Look, it's a drop spindle and some roving. But it's not just any roving, it's 70% Merino/30% Tussah silk. It's so nice, I hardly feel like I can use it. Seriously, you have to feel it to believe it. I decided that I really want to do the roving some justice, so I've ordered some cheap practice roving to teach myself how to spin, then I'm going to spin this stuff. I can't wait. If any of you out there have any suggestions for someone new to spinning, please feel free to pipe in at any time. I've been watching
this
. Look how effortless and easy that seems.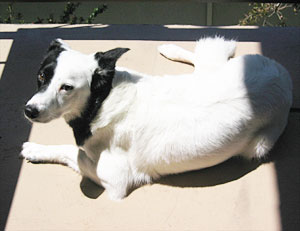 Apropos nothing in this thread, here's Panda enjoying a sun beam on the balcony. I just think she looks so content here. Expect a Panda heavy post in the near future.