Dolphins
Check it out!
We went to Ventura beach on Friday and caught a pod of dolphins swimming about.
Click to see a close up
Do you see them? It's just their fins sticking up in the water. I guess it's more exciting when you see them live and in person.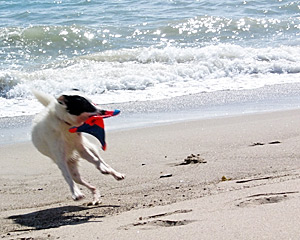 Panda had other things on her mind.
Ok, to answer a few questions from my previous post, a couple of you asked about the yarn I used. It's called Karaoke and it will soon be distributed by the folks at
South West Trading Company
It's actually not yet available for sale, but it's coming soon. If you want to see some of the color ways, you should take a peek at
Jonelle's blog.
Janice
asked if I grafted the ends. I did indeed.
Froggy
mentioned rockin' to some old school Shakira and to that I just have to say that you are a woman after my own heart. If you haven't already, you should get yourself some Juanes. Mmmmm, Juanes.