A brief Cardi hiatus
The Cardi has to be put aside for a couple weeks while I work on a piece for
Mag Knits
. Obviously, no posts for that, but I did whip a little something out of the
Karaoke
, while I was pondering how to proceed with the cardi sleeves.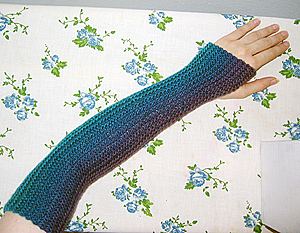 They are garter stitch gauntlets knit lengthwise. I felt that working self striping yarn widthwise would tend to make arms look wider and shorter instead of elongated and graceful. These were very very easy to make, so I'll probably post a pattern shortly. It'll be more of a formula than a pattern because they should fit the wearer snuggly so they stay in place.
Have any of you heard the new
Shakira
song? Here's a
quicktime
video of it. I've been humming it all morning. It's in Spanish, a language I do not speak, but I dig it nonetheless.