Not done yet
Am I the only person out there who assembles her knit pieces as she goes? It's actually a psychological trick I use to keep me motivated on long projects. I've assembled all the pieces so far, but I'm still not done with the sleeves so this is only a progress report, not my final exam.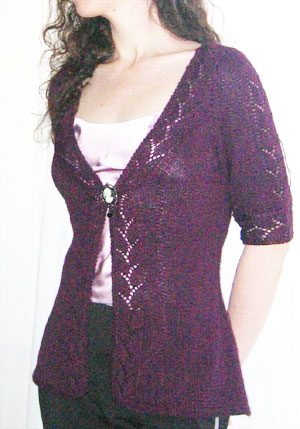 I'm wearing a proper shirt underneath but those are PJ bottoms, in case you are wondering. The Cameo is only a temporary thing until I decide how I want to close the piece. I'm feeling like my project is a lot like
Wendy's
most recent project. I was actually considering doing the same sort of closure. Funny, huh? Must be something in the air.
Overall, I'm fairly happy with the progress, but I'm considering shortening the body. I think it might be a touch too long. We'll see. I'm open to opinions out there.
On the topic of accomplishments, I've apparently won the
The Museum of Kitschy Stitches, Vol. VI - Special Guest Exhibit
. How happy am I? I never win ANYTHING.
One last thing before I sign off here,
Shannon Okey
has a new book out called
Knitgrrl: Learn to Knit With 15 Fun And Funky Patterns
. I have absolutely nothing to do with this book, but I'll be in the sequel sometime next year. I have a little project in it that I'm quite excited to see in print. Shannon was a lot of fun to work with and I'm looking forward to seeing all the other great projects in both her books.