Caps off to me
I finished the sleeve cap on the first sleeve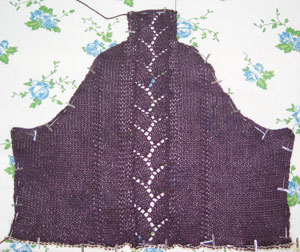 That's not really monumental progress or anything but it's done. You can see that it's a saddle shoulder. I decided to pull out a few rows of each shoulder on the front and back and work the lace a bit further on the sleeves. I think it'll be a nice way to elongate the wearer from the side. Now, I have crazy long gorilla arms, so I really don't need elongation, but as a general design concept, I think it's sound.
Speaking of design concepts, I live about 5 miles from
this art school
. Caution, Flash required.
They have a Continuing Education program for
Fashion
and one of the electives is
THIS
. Now, how much fun would that be to take? I'm not thinking that I'd quit my day job or anything, but the class would be a lot of fun. I'm trying to see how I can work the budget to take the class. We'll see. By the time I get things sorted out, the class may be full.
And on the topic of spending money, if you are trying to avoid it, don't go to
Andrea's site
. I directed you all there before when she sent me a sample of her beautiful yarn, but she didn't have any content on her site. Now her site is full of lovely yarns and other knitting goods.