Call Me Slacker
How sad is this for progress?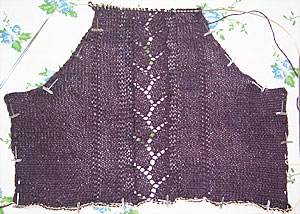 Scroll down, look at the last post from 4 days ago. What's up with that?
I still have to finalize what happens from the provisional cast-on, on down. Expect a touch more lace.
In a couple days, I'll be getting some yarn for a non-bloggable project so I'm hoping to finalize this project soon. I'm prefer to knit monogamously, but I definitely don't want this project to fall by the wayside.
Additionally, I need to get a care package together for Secret Pal, mail it off and then hit the DMV and bring the furry one to the vet. Busy busy day.
Ooh, and totally off topic, have you played around with the "Satellite" feature
here
?