Been knitting and beaching
The back of the cardi is coming along nicely. I would have thought I'd be sick of stockinette by now, but the constant shaping is keeping me going. I think seeing some real progress is helping as well. I am looking forward to blocking and seaming what pieces I have, once the back is done.
Here's a peek.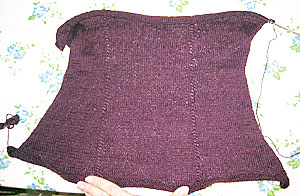 I'm about 20 rows from the armhole shaping. I haven't been having much time to knit during the week, but I'm thinking this weekend should see me finishing off this piece and beginning the sleeves.
Saturday was stunning, here in LA, so we brought Panda to the dog beach in Huntington.
She loves when we play fetch with her "squirrel"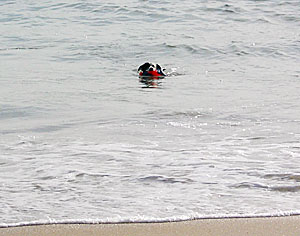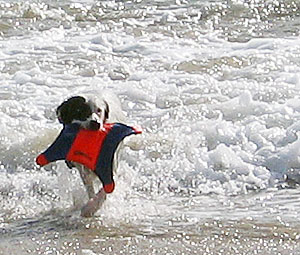 You'd be amazed at how fearless she is. We've seen 5' waves come crashing down over her head and she will not drop that thing. Further, she shakes off and insists we throw it again. And even if we attempt to throw the squirrel away from the water, she'll find circuitous routes back to us that have her dipping her toes in the surf. She can't get enough. Border Collies are prone to obsessing and herding things and this appears to be her outlet for those behaviors.