Little further
I've knit a little bit more of my super yummy purple yarn.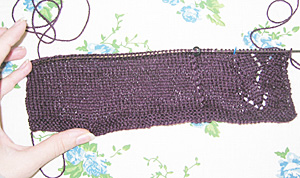 I know, it's not very exciting, but you can start to see where I'm going with this.
Right now, you are looking at the right front portion of the cardigan. It's got a faux princess seam where the black stitch marker is and a lace border at the front placket, where the blue stitch marker is. I'm hoping that the .5" of garter is enough to keep the piece from rolling, but if not, I'll just pull out the cast on and knit a bit more hem.
In case you are wondering, the faux seam is formed by slipping a particular stitch every other row. I think there are other ways to achieve this result, but I find this the easiest.