Here I Go Again On My Own
There's just something about cheesy song references that really makes my day. Anyway, now that one side of my cardi is finished, I'm starting on the other side. I definitely suffer from severe bouts of not-again-itis, especially with something that is a big investment in time, but I'm going to fight it since I think the end result will be worth the effort.
Anyway, so you won't think I just flipped an earlier picture around, here's the second side started next to the finished piece.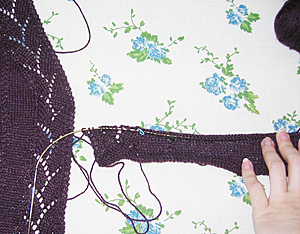 Eye on the prize, Marnie, eye on the prize.
I had to reverse all shaping so I took my original notes: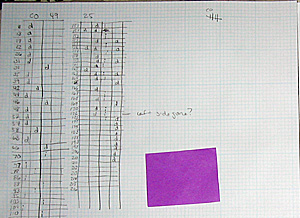 And reworked them into something a little more legible and useful: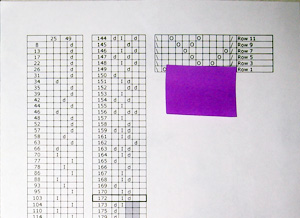 Both have my handy dandy post-it place keepers.
I suspect I won't have the wealth of free time this weekend that I had last weekend, but I'll still try to crank out another whole piece, if possible.
On an unrelated note, may I just say that I LOVE the Culver City Farmer's Market. I know that most of LA likes to brush elbows with the stars at "THE Farmer's Market" but I can't be bothered with all that. Leo hit the Culver City Farmer's Market last night and I feasted on assorted Greek cheeses, olives and fresh made breads for dinner last night. I'm a very happy girl. And the meal ended with a delicious, juicy orange.