Snow baby
LA has been outpacing Seattle for rain this year, and it's made for some dismal days, lately. The rain is going on its merry way, though and leaving behind some lush greenery and clear skies. Additionally, rain in LA means snow in the nearby mountains. One of the things that I love most about the LA area is that you never really give up any sort of weather, you need only get in your car for a hour, have your fill and come home that same day, if you please.
Last weekend, Leo brought Panda to Mt. Baldy for some romping around, while I recovered from my weekend of debauchery, and the pictures he brought back were so heart wrenching I knew we'd be back this weekend.
We dressed as warmly as we could, packed up the pooch and headed back to the Mountain.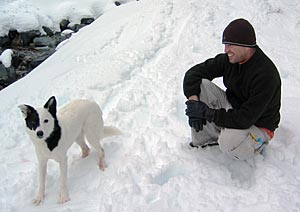 Panda's favorite thing of all is to dive head first into a pile of snow and rub her face in it. Every once in a while she grabs a bite or a lick of clean snow, for good measure. She literally never gets tired of this.
Here's a picture of her with the incriminating evidence on her nose.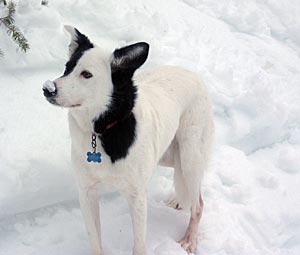 How cute is THAT?
For a dog who has lived in LA her entire life, it really amazes me how naturally she takes to snow. There was never even a moment of shock, discomfort or surprise for her.
Luckily, Leo is similarly drawn to the fluffy white stuff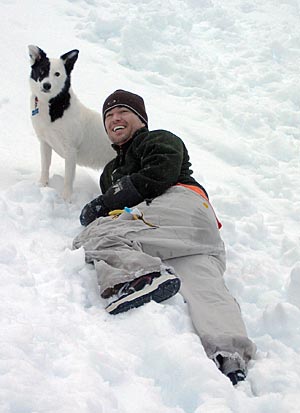 I wore my
Happy Hat
, which not only looks VERY fashionable but has the added benefit of keeping one's ears quite warm. No pictures, though, of the hat in action, sorry.
In proper blog news, the
Erte cloche
sales have been a bigger success than I would have imagined. I think I've sold 12 of them so far. Between that and the
Cafepress shop
, I think I've recouped most of the cost of the site. I couldn't be happier. To all of you who have made purchases, you have my very sincere gratitude.
A couple folks have commented about seeing my Knitty Gritty episode. Thanks for the oodles of sweetness you've all sent. To PrincessTrish, who asked what it was like doing the show, it was a lot of fun. The staff is shockingly friendly and accommodating. If any of you have a chance to be on the show as Knitsters or guests, take it. You'll have a great time doing it.