Post 3 of 3
My friends, Chrissy, Deb and Sue, planned this incredible overnight for me. We stayed at the Standard hotel in downtown LA. Leo and I have gone to their rooftop club many times, but since we live 20 miles away, we've certainly never been guests. But the girls weren't content with simply renting a run of the mill room, instead, they reserved the "WOW" room. This is 750 square feet of retro fun.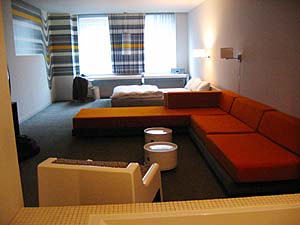 The room features an "emperor" sized bed and a huge couch which served as extra sleeping space for us.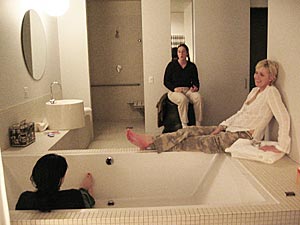 As well as a bathroom the size of my first apartment. The bathtub could easily fit 3 or 4 people if that were something that appealed to a group. We, apparently, feel it also makes great seating. You'll note that behind the bathtub, is a separate shower and, concealed, is a water closet as well.
But what is Chrissy sitting on?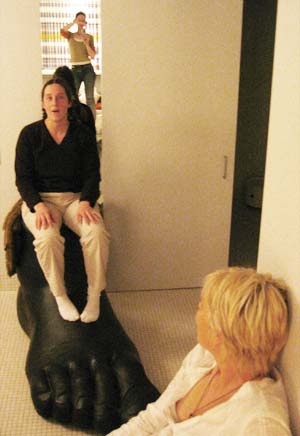 It's a giant black foot, of course.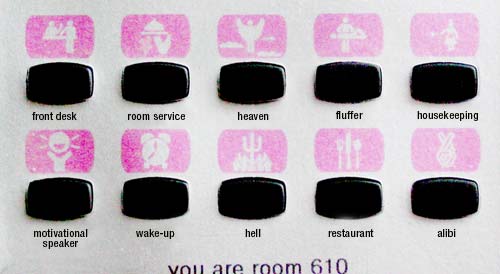 Funky is par for the course at the Standard and the phone is no exception. Here you can see the various speed dial options available to us. I've touched up the text to make it legible, but I am not embellishing in any way. Buttons for the front desk and room service perform as expected, but the other buttons offer some of the most surreal recordings.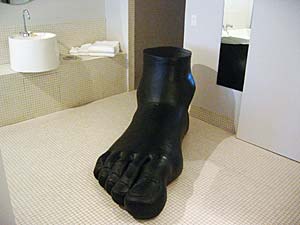 We really did love the foot. It's made of foam so it was highly portable.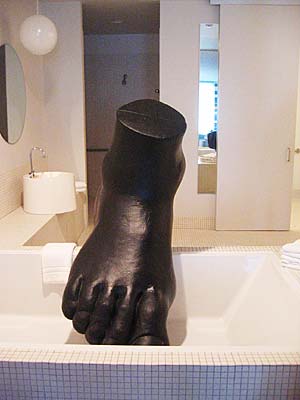 Here you see it testing the bath water to check if it was too hot.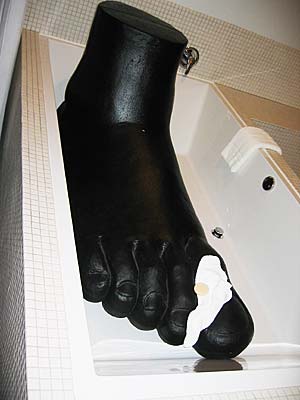 It was just right, so it popped in for a scrub.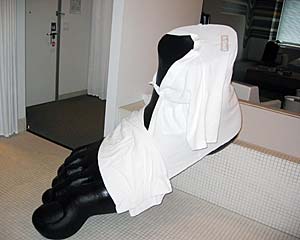 Having finished it's bath, it took advantage of the hotel robe and towels to dry off.
We really liked the foot :o)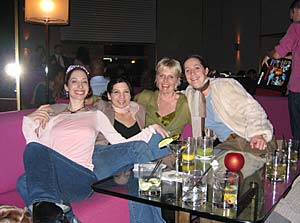 But the whole night wasn't foam feet and hotel rooms, we took full advantage of the club downstairs. Chrissy got me a tiara to wear for the evening to make sure that we weren't the only ones who knew I was "special". Sue (the blond) did everyone's makeup, ensuring lots of bad pickup lines all evening long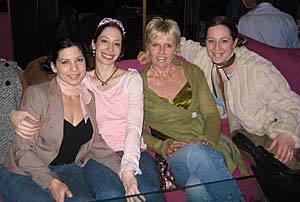 But it was great fun and I'd do it all over again a hundred times.
Turning 30 is great.