Post 2 of 3
As you may be noticing, I've opted not to try to fit my entire weekend into a single post.
For my actual birthday, Leo treated me to a wonderful evening out. We both dressed up a bit which will end up posing a bit of a problem for us.
We started off having filet mignon at the Bonaventure, along with a wonderful bottle of wine. We didn't get any pictures, but, we did save a little bit of meat for Miss Panda so she'd be able to share in the joy.
It's been really rainy here in LA, but we decided to brave our way over to the Omni hotel for some deserts and drinks. The Omni has a lovely little bar and lounge area with a piano player singing all your favorite piano bar songs. It was lovely, and Leo treated himself to some sake: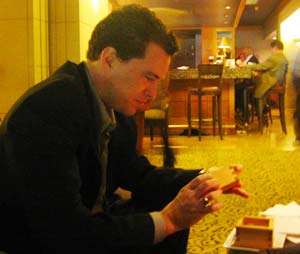 We lounged a bit and enjoyed the ambiance.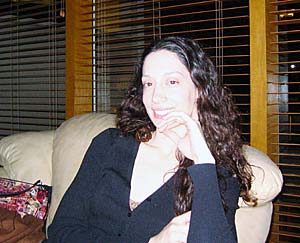 Sitting near the window, we noticed that, instead of letting up, the weather appeared to be getting worse and worse. We debated, do we leave now before the streets are too flooded to get through, or do we try to wait out the rain and dash to the car in dryer comfort?
Eventually, it appeared we weren't going to see the end to the torrent so Leo and I decided to leave. He was wearing a very nice suit and doubted it'd fair well in the torrential downpour so he asked me to wear his jacket under mine to protect it, which left him wearing only a thin dress shirt.
Venturing out into the elements, we quickly realized that we were not facing mere rain, but pea sized hail as well.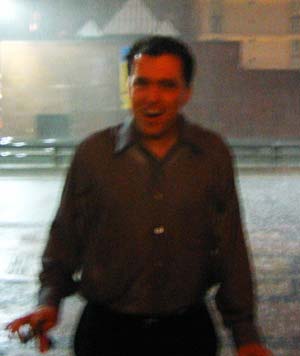 Here is a picture from a stop we made under an overhang to catch our break. Despite wearing Leo's jacket and my own, I was freezing, imagine how he felt.
We finally made it to the car, and cranked the heat for everything it was worth, within 10 minutes the weather cleared completely, nary a drop of water in sight. Fear not, though, the rain picked up once more, in time for us to walk Miss Panda before bed.
It was a rainy night, indeed, but no less wonderful for this Birthday Girl.