My Comments Runneth Over
Well, 19 comments isn't a lot for many bloggers out there, but I generally don't receive so many and, wow, you are all quite generous with your praise. It's making it hard for me to fit my head through various doorways. Thanks.
A few people have requested pictures of lace darts and a couple people have asked if there are ways to avoid having to do the modifications.
To the first question, "yes" and here they are.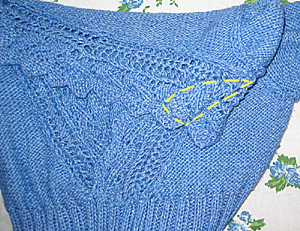 Click the image to see a close up without the stitch marks.
Note that the dart is stitched down towards the back of the piece. By sewing it down along all three sides, you reduce the bulk formed by pinching up the lace. I wouldn't recommend this technique on anything thicker than a worsted weight yarn. If you wanted to eliminate more bulk you could cut the darted fabric out and serge along the raw edges, but that would involve having access to a serger.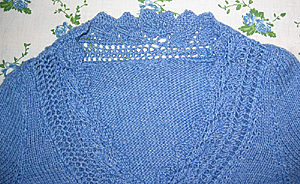 Here's how the piece looks flat. Your aim should be to have a smooth, shoulder shaped upper edge from the sleeve to the neck.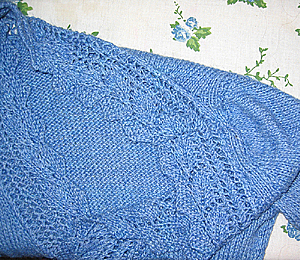 Laid flat, this is what the corner created will look like from the outside. If your lace is very very open, it will show the dart through, but that will be minimal. Press the dart according to the yarn's specification to reduce any remaining bulk.
As for the second question, the answer is a tepid, "not really." Theoretically, one could knit a lace that could turn corners, but it would involve a level of engineering that I don't have the time to work out. Basically, you are trying to knit a wide band that will sit flat as it bends around the neckline. Since, technically, the outer edge of the lace would need to be longer than the inner edge of the lace to do this, there is no easy way to accomplish the goal without some alterations at the end. I promise you, though, the alterations are very easy.
Someone wrote me yesterday to ask about the little bit of bunching at the base of the neckline in front. I've been able to remove that as well by simply tacking the overlap.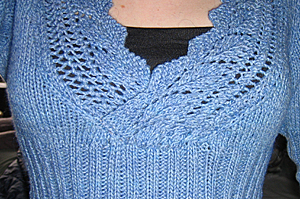 Sewing the two piece together at the base ensures the front doesn't droop at all.
Finally, on a none knit related topic, I bought myself some jeans this weekend that *gasp* actually fit and *double gasp* didn't cost me an arm and a leg.
I'm feeling serious love for my new jeans.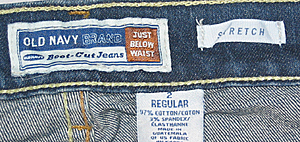 They are Old Navy Stretch jeans in a boot cut design that sit just below the waist (i.e. no plumber's butt here). I bought a dark wash pair in regular length for wearing with healed boots and a lighter distressed wash in their short length for wearing with flats.
I can't tell you how happy I am to finally feel completely comfortable in a pair of jeans and they still look good. Yay Old Navy.