A Benefit of Blogging
I've now met my second blogger, the first being the talented and lovely
Julia
and now the delightful
Miriam
with whom I enjoyed a meal of Indian food, followed by a bookstore browse, then a tea and KIP. Tell me THAT isn't a little slice of heaven.
On top of the lovely day out, she made me this stunning hand felted journal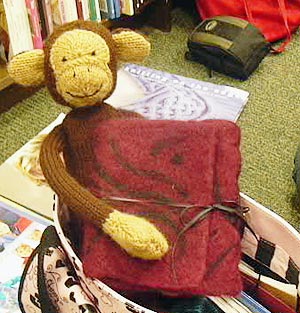 It is being modeled by her sweet Lucius, whom you may read about on her blog. Hand knit and handsome as they come, Lucius is a monkey a girl could really fall for.
I was glad to meet them both.