Swimming in Yarn
Well, I feel like I've gotten a lot done this weekend. I'm all but finished writing up the instructions for the Soy Silk piece I finished knitting a couple weeks ago.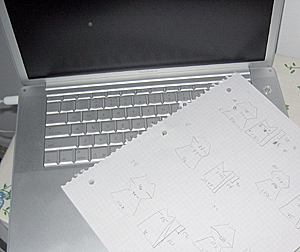 I just need to finish up the schematics and proof read it.
I also went to the yarn shop and spent a bit more than I'd like to admit.
To compliment my lovely yarn from
Andrea
I bought some Berroco Suede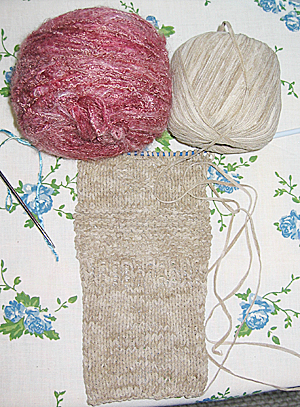 Which I swatched in the car when we went to the beach yesterday (more on that later).
I also got two different types of yarn for the
PIP Along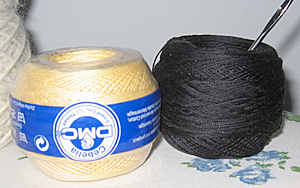 I'll do some crocheting with this thread...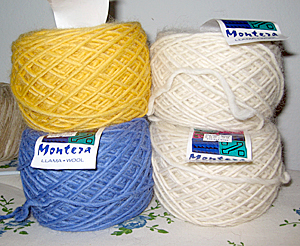 ...and some knitting with this wool.
I also bought some yarn for my secret pal, but I can't show that here.
Alas, all that is going to have to take a back seat to my InKnitters project which I've only done a little bit of knitting on.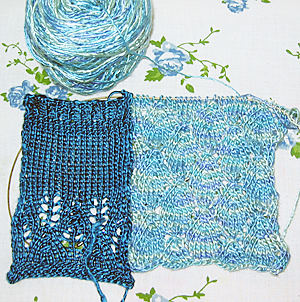 But that's the last I can show you of it, which is what I said a couple days ago, but this time I REALLY mean it.
Beyond the knitting progress, I mentioned going to the beach. Here are a couple pictures of my sweeties having fun.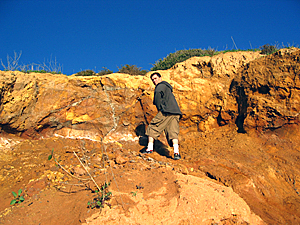 Here is Leo climbing up bits of the cliffs. It appears that the clay in that area has iron, sulfur and bits of ashy carbon in it, as well as some sodium crystals from the ocean. But that's just our best guess seeing as neither of us are geologists. Regardless, it's beautiful. I wish the pictures did the area justice.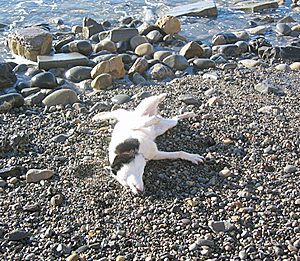 And here's Panda doing her favorite thing of all; going for a roll in the ocean rocks (aka: having a little "shake n' bake".
We did a bit of tide pooling and rock/shell collecting. It was great fun as always.
And for those of you needing some complete distraction, here's a little bit of entertainment courtesy of my brother. To paraphrase Matt: No matter how bad your life is, you can feel good knowing you aren't
this kid
.