Pinked My Interest
I appear to be surrounded by pink right now. Not a darn thing wrong with that, of course.
The first is this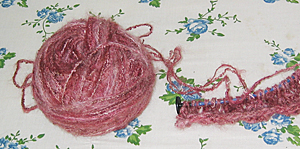 I feel almost ashamed posting this pick because it does the yarn so little justice.
Andrea Corey
dyed and plied it and sent me a generous amount, and I feel about as lucky as any girl could to get my hands on it. I know her site isn't totally together yet, but keep your eyes open for what she has coming. Her work is lovely.
And this is what I knit yesterday in what I can only call an S&D (Stitch and Delight).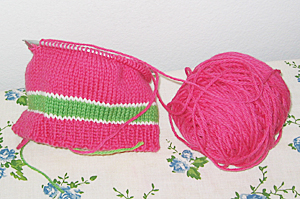 It's made with Cascade 220 and is going to be among the items I'll either sell for charity or give away to homeless shelters. I'm trying to actually keep those items in production as much as possible.
I knit most of this while having a delightful afternoon S&Bing and I realized how much I miss spending time with a genuine knitter. Most of my friends have passing flings with knitting. They might spend a couple days, weeks or months pawing at a lovely yarn, but it's dropped for other passions when interest fades. Those of us in long term relationships with our knitting, are happy to wait out the dry spells, frustration and occasional fits of tears because the end result is so satisfying. It reminds me that I really do need to find my way to the weekly LA S&B events.
Along with the hat, I've been encouraged to post another tutorial for all of you, so in the next couple of days, expect a tutorial on a "no sew knitted hem".