Hypothetically Speaking
Let's say that
someone
were coming to LA for a wedding and had a couple days to spare to spend with another knit blogger. Now let's say the two had to pick one local yarn store somewhere between the San Fernando Valley and the South Bay to go to on a Saturday or Sunday. For those of you who have or do live in LA, which one store would you think this hypothetical duo should go to, seeing as there are so many?
Hypothetically speaking, of course.
In other news, I have knit the very last stitch on my soy silk piece and I am down to the finish(ing) line. I'm so pleased with it that I can't wait to show you all pictures. The best I can offer you is some of the finishing I'm working on right now.

It's a bit of grosgrain ribbon and some beads.
I've also been crocheting away on my beautiful purple tape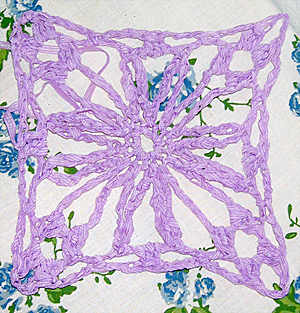 Am I the only one noticing a color theme here?
Today is the first S&B of the new year at work. One woman suggested that we do crafts for charity. I thought that was great so I made two suggestions to the group:


Make items for people in need, including preemies, troops abroad, the homeless and others.



Make items to sell to raise money for the United Way drive the company sponsors each year.
I've pointed out that we cannot sell any items made from other people's patterns without their expressed consent, but if any of you have suggestions or resources for patterns that can be sold for charity, please feel free to leave a comment. The group is pretty multi-talented, though the regulars have been knitters and crocheters.