Early Birthday Present
My mom makes sure that if no one else grasps the concept, at least she does, the concept being that my birthday is recognized for weeks before and after the actual date.
Leo called me at work to tell me I had a package and he attempted to explain what it was. It went something like "Well, there's a pamphlet, and some of that, what do you call it, ribbon stuff, and some other stuff and a yellow flyer."
"Who's it from?" I ask.
"Uuuuum ...[long pause]... it says 'Big Momma'"
That'd be my mom, of course. At 5'2" and a petite build, what else would she call herself?
The gift was actually, this: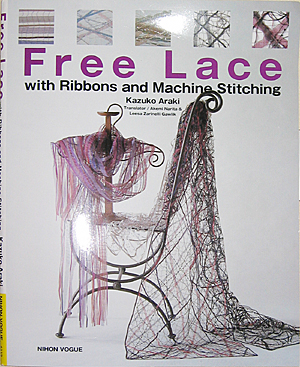 It's a booklet on a technique called Free Lace in which you map out ribbon and yarn on a sheet of dissolving fusible interfacing, place another sheet on top of the design, fuse, then machine sew a supportive grid throughout the whole thing. When you dissolve the interfacing you are left with just the pretty stuff.
But being the cool mom she is, she didn't just tempt me with technique, she also included the interfacing and some yummy yarn: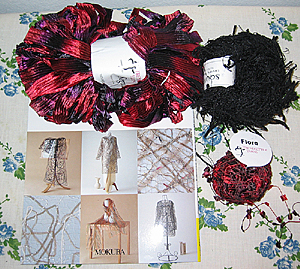 Click this image to see a close-up of the yarn and the detail on the back of the booklet.
She got me everything from
The Fiber Studio
in NH.
Today is the weekly work S&B. I plan to start working on hats for our charity cause. I think I'll make a bunch of kid and adult sized
Happy Hats
because I want to give the less experienced folks a chance to do some finishing if they don't feel confident enough to make a whole hat, yet.
One more note
I'll be participating in
Jessica's
internet protest tomorrow. All other blog content will be temporarily unavailable and I'll be posting about my support for the troops and my distaste for the overblown inauguration. If politics is not your thing, perhaps you could return to my site on Friday.