Too Cloche for Comfort
Is there anything better than a bad pun? Don't feel obligated to answer that. It's a disease, like alcoholism or infomercial watching. Well, I've completed the cloche and for a winger of a pattern, I like it well enough. The brim ruffles, which is cute and interesting, though not exactly what I had planned. I like it on, though and will keep it but I'm going to try again, sometime in the future, with the lovely green Koigu that I have. Would you like to see some pictures? Vacation has me looking less than picture worthy, so, for now, we'll admire the piece flat. You can click either image for a larger view.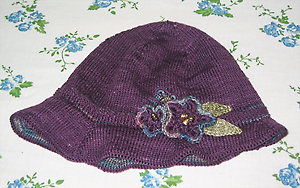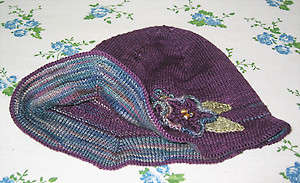 It's worked in three shades of Koigu, a deep eggplant, a variegated gray/purple/blue and a lovely sage green. I also have a few yellow glass beads that my mom gave me. Everything is knit, including the flowers. I used a technique similar to that found in the winter Vogue knitting. I found a similar pattern in one of my other knitting books so it appears to be an old technique, which means I should be able to include it in my pattern. The leaves are my own little design. The whole piece is worked on size US #2 needles, except for the large flower which uses two strands of yarn on size US #4 needles.
The brim is my favorite part, when I completed the main part of the hat, and was ready to start the brim, I worked one row where I knit and purl in every stitch. I moved all the purl stitches to a piece of waste yarn inside the hat. I worked the brim down from the knit stitches then put those stitches on waste yarn. I turned the hat inside out and worked the brim identically to the outer brim, working the last row of the inner brim in the main color of the hat. Then, I put the outer brim stitches back onto needles and worked a three needle bind off all the way around, catching the top and bottom brim each time. If you weave in most of your ends before then, they can all be threaded to end between the layers of the brim for a really clean finish.
With all that knitting content, you must know that some Panda content can't be too far behind.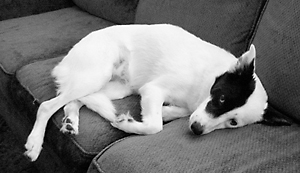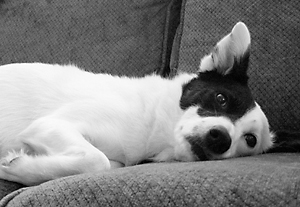 This is what sharing a bottle of wine with Leo does to me. Can't you just see her saying: "Aw, Mom, I'm trying to sleep. Leave me alone."?