Mr. Bunny Pants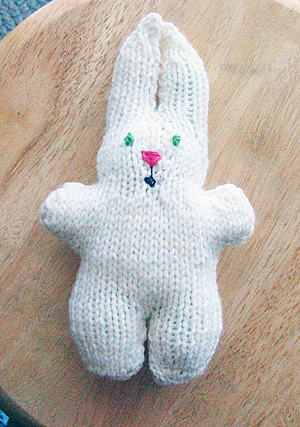 Mr. Bunny Pants is done. He's an enigma, no? Made from the "mama bear" size and entirely free of pants, he is nonetheless, Mr. Bunny Pants. If you haven't read my previous posts, this is from
Kate's pattern
and it's as fun to knit as it is cute. Mr. Bunny Pants was more of a test drive form me and I'd like to try him again in something nubblier. I'm not sure if I'm just a super loose knitter or if it's just the nature of the yarn, but the knitting seems a little sparse in tighter areas. I think a nubby or fuzzy yarn would obscure that a little.
Why does Mr. Bunny Pants look so frightened? Well, as
Jessica
guessed in yesterday's comments, Mr. Bunny Pants is a gift for Miss Panda. She loves all things squeaky and soft, and being made of 100% wool doesn't hurt either. How do I achieve squeakiness? With these, of course.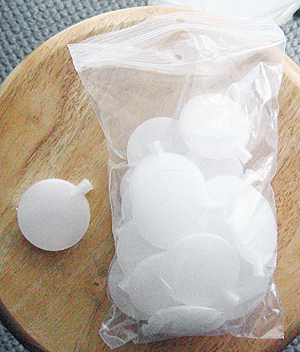 I used to sew toys for Panda and she's kept those for the whole 3 years I've had her, while other toys have been properly eviscerated. Mr. Bunny Pants may not stand a chance of lasting that long but since I'm listening to the sweet sound of squeaker as we speak, I know it'll be worth it for the fun she'll have.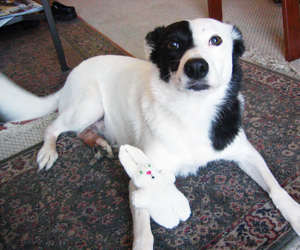 If any of you are wondering where to get squeakers for doggy toys, I like to get mine
here
. This is a great store for dog lovers. All their treats are very healthy and safe for dogs and the prices can't be matched. I had looked everywhere for squeakers and most places sold them for 3 to 4 times the price that Sit Stay offers.
If you want to give your dogs something really special and gross your friends (and maybe yourself) out, you should consider getting some of
these
. Panda thinks they are macho-licious