Morningmare?
Yesterday, I woke up, ground some coffee beans, filled the coffee maker with some filtered water and turned it on...it wouldn't turn on. It's been a bit touchy lately so I wasn't shocked, I just clicked the button a couple more times, letting a couple empty threats out as I did so. Still, nothing came. Finally, the little red light came on, but unlike previous times, it didn't actually brew any coffee it just heated the empty pot, leaving the grounds dry and the reserve of water untouched. In my head, I was screaming like the heroin in a bad b-list movie.
This
is our coffee maker. If we had read the reviews before buying it, we probably wouldn't have gotten this model. It hasn't been 15 months since we bought it. I'd expect better.
Thank god for our French Press.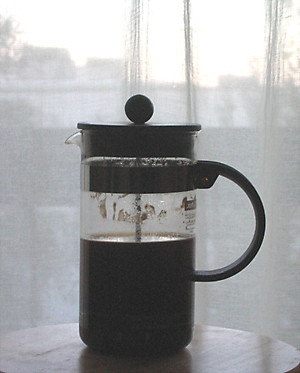 I'd write a poem to it if I were more poetic.
In knitting news I've posted two of the soon to be four sizes in the
Bella Paquita
pattern. I've also tried to add plenty of information about working with the chart and some suggestions for modifying the pattern for yourself. I'm not sure when I'll get the two larger sizes up, but hopefully it won't be too long from now.
I'll move on to the cloche after that. The cloche will be my 25th free pattern.
I did have an odd thought yesterday. Actually, it was more distressing than odd. I was reading through some old Knit List digests and the topic of Bonne Marie Burns'
felted bucket hat
came up. After a few back and forths, someone else posted a bunch of free alternatives. My initial thought was, "Wow, that woman just robbed Bonne Marie of $5." Obviously, she did nothing of the sort and looking through the free alternatives, it was clear that none were as nicely designed, but still, it got me thinking. Are my free patterns offered at the expense of designers who are trying to make money off of patterns? If the selection of free patterns gets better, does that lower the value of patterns available at cost? Am I a horrible person?
You know what this means, right? Yup, another internet poll.