Knitless Friday Night
My Fridays tend to go one way or the other. I'm either sitting at home knitting, quit possibly heading to bed by 11, wearing sweats and a flannel, or I'm out wreaking havoc in LA. Last night leaned more towards the later. We started the night by catching our friend
Vinnie
playing at a coffee house in Santa Monica. Unfortunately, we only caught the last hour of his act but it was a good hour nonetheless.
After that we headed to
The Derby
. This used to be my favorite place to go swing dancing but it appears that they are moving away from that theme. I guess retro 50's swing is no longer cool and punk is back because we saw two British Punk bands there. Unfortunately, the back room was being rented out for a party. The people in front of us in line sounded like they said they were here for
this guy's
party, so it may have been their wrap or holiday bash. That would also explain this monstrosity parked in the lot: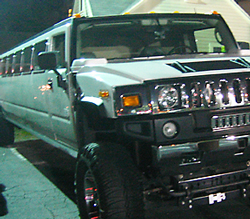 Click
here to see the whole picture as well as how I feel about Hummers in general. We can all thank
Leo
for taking the picture.
There was a second stretch Hummo which you can see a bit of in the linked picture (off to the right, My left hand is in front of it.). It, though, wasn't raised and chromed out.
Now, regarding the previous post's poll, first off I want to send big hugs to all of you. You are terribly sweet and make me feel like I may have been shamelessly fishing for compliments. While it wasn't my intention, it still made me feel great. The vast majority of you (89%) feel that my concerns are baseless and I have nothing to worry about. Almost everyone echoed that it would be in poor taste to readapt a "for sale" pattern into a free pattern, but none seemed to think I was doing so. I was amazed with how many people posted comments. Surely, 29 comments is a record for my little blog. I would like to address some of them, so here goes.
Mim
commented that she saw knit blogs as part of a community and that communities share. That was really my hope, I can talk to myself without running spell check, but my blog and patterns let me be a part of a greater circle of virtual and physical friends. Of course, I do feel a nagging urge to remind people that the sharing only extends as far as law allows. I would hope that all of you would keep yourself up to date on copyright law.
Julia
did a great post on this, recently. Please scroll down to the 27th.
A couple of you commented that I should do a book of patterns or start selling patterns and in general wondered what kind of logic could possible drive me to offer lots of free patterns. For now, I do a few "for sale" projects here and there. I should have a pattern in a book in 2006 that I'm very excited about. I am also working on a piece for Soy Silk and may have a couple other pieces here and there. While the idea of being a full time knit designer does call to me, right now, it's my hobby and not my job. I do my very best with my patterns but I have no editor and no test knitters. Because of this, I feel that my designs are interesting but I can't guarantee any level of quality from my pattern writing. I've been teaching myself over the past couple of years and I think anyone who has worked with my patterns would agree that the newer ones are far better written than the old. To Kerry's comment, my free patterns also come with the offer that you can reach me directly if you have a question or a concern.
Ultimately, though, I think the whole "free pattern" thing is my little psychological ploy to keep knitting from ever being a chore. It's never as fun to have deadlines and approvals as it is to just knit what I like and offer what I can.