Crochet Anyone?
While watching
Van Helsing
last night I decided to play with my lovely Rowan tape.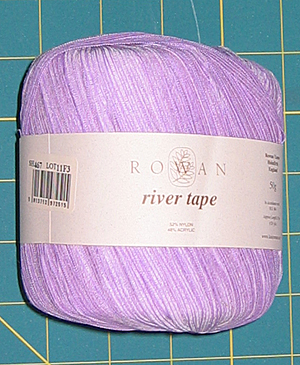 I bought it from the one and only
Carrieoke
when she was attempting to trim some stash. I've been leaving this yarn in highly visible places because I love the color and I'm intrigued by the texture. She included the Rowan
It's a Tape Thing
book and I've liked the look of
Candy
but don't really have much use for a hat like that. My head is so tiny as it is, it'd only exaggerated my hair below the brim and make me look all pin headed above the brim. Not a great look on me. So, I decided to pull out my various pattern books and I found a motif with a similar feel.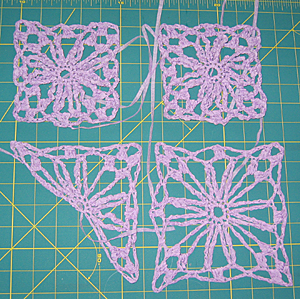 The bottom two pieces are blocked. I had to modify the pattern to make the half motif, but that was relatively easy to do. For all of you out there who hate to block, I think this is a good example of how blocking can subtly but meaningfully change the look of your work. If you compare the two, not only do you get more surface area out of the blocked version, but the final look is lighter and more delicate, despite the fact that both are worked in the same yarn with the same hook.
I haven't exactly decided what I want to do with the motifs, but making a few more with allow me to play a bit. I have 10 skeins of the stuff and these motifs were made with less than one skein, so I can get a lot of distance with my stash. I am thinking of combining knit and crochet in this piece, possibly working the motifs as a yolk on a predominately knit top.
Speaking of Carrieoke, she and I have both been named finalist, along with 8 other individuals for the
BoB awards
for Knitting/Crafting blogs. Voting starts tonight and I hope you'll take a look at all the blogs nominated and give your vote for the one you like best. There are a variety of other categories as well. Who knows, maybe you'll discover some new favorites.
Finally, because she just won't let up on the cute, here's one more pic of Panda.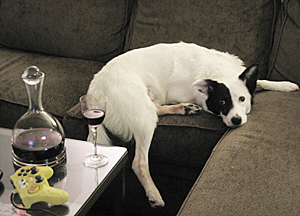 This was after we finished watching the movie. You can see my Spongebob Squarepants PS2 controller and our wine decanter on the table, along with puddle face, laying on the charm.