Couldn't Help Myself
I want to be good, I want to stay on task, but how can I when such a cute pattern beckons me?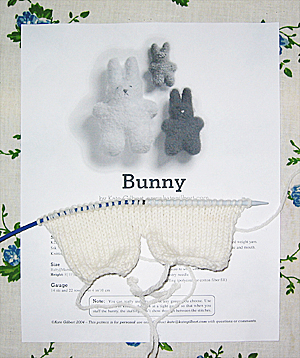 Last night, before bed, I treated myself to knitting the legs of the Mamma Bunny from
Kate's pattern
.
I'm using some leftover Cascade 220 I have and #6 needles. The pattern is moving along quickly and it's great fun to see how she designed it to be worked in one piece.
In other news, my brother is coming out to visit for a few days before Christmas. I'm hoping the weather will be more cooperative than when he was out for Thanksgiving. The house is in sore need of some tidying so that will be my main responsibility tomorrow. I'm sure I'll fit some bunny knitting time in there, somewhere.
Panda asked me to to thank all of you for sending your love her way. I've told her that she is not allowed to get any older after this year since I think she's perfect right now and I want her around forever. She said she'll work on that.