If Only I Looked This Good
Those of you who have wandered through my patterns or who have been reading my blog for a while, may recall my
Frog Pond Hat
. I made it as a baby shower present for a colleague. She promised she'd get me a photo of her beautiful Katrina wearing the hat, so that I could post it on my site, and boy did she deliver.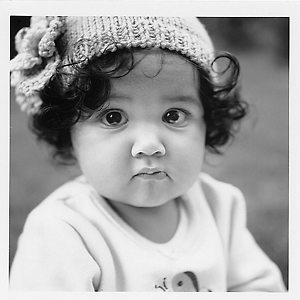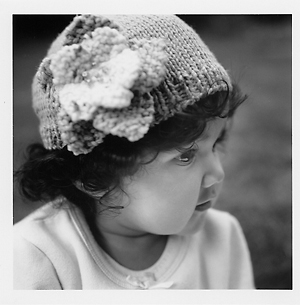 Copyright Susan Rosenkranz 2004
Her sister-in-law, Susan Rosenkranz, who is undoubtedly a talented woman indeed, appears to have used a vintage large format camera to great effect. It's easy to be proud of one's knitting when the model and photographer produce such a beautiful result. Let's all take a moment to collectively "awwwww" in the direction of the screen.
The only other news of note is that my brother is coming to visit early tomorrow morning and staying till Sunday. It'll be great having him out for the holiday. We will all be eating ourselves stupid, and then doing so again. We try to keep the spirit of the holiday alive in that way.