Everyday is Saturday
I'm actually taking this week off from work. Leo and I had hoped to do some camping or something this week, but the stars haven't been aligned in our favor, so I'm enjoying a much needed break from work. I'll admit to having logged on to my work email a couple of times, but I'm trying to not agonize over those things. I'm really not so indispensable that they can't get by without me.
You would think that with all that free time I'd be a blogging mad woman but Leo's been designing a new site and has been needing a lot of time on the computer, so my best bet is to get up early in the morning to blog. Who wants to do that on their vacation?
I have gotten some knitting done, though. The soy silk project is going slowly because the ladder yarn I'm using is very time consuming to knit. I can knit most yarn while doing just about anything else because I can feel the stitch with my fingers. The melody yarn is two thread like strands held together by an occasional ladder rung, so one must look carefully to ensure that both halves of the strand are caught in each stitch. The result is lovely and I don't regret picking the yarn, but it has been slow. Since I can't really show you what the final product will be, I won't show you the pieces I'm working on, but I can show you an abstraction of the progress.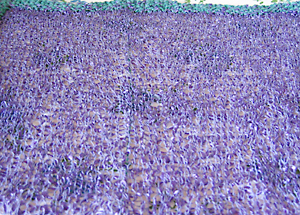 I've also started something with the beautiful Koigu I bought. The picture really doesn't show what I've done because the circulars are much smaller than the circumference of the piece, but I'll try to explain it.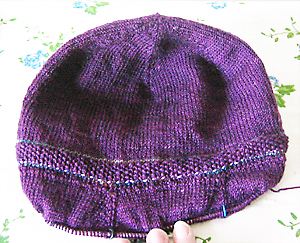 There are a couple things going on here. I started the piece with a provisional cast on and worked a seed stitch band for about a half inch. This is to give the look of a ribbon around the base of the hat. I worked one row of a variegated color which will be picked up later in some flowers. The hat was then worked to the crown, using paired decreases at six even intervals around the hat.
When I picked up the provisional cast on, I ran a lifeline through the stitches because I'm not sure how my experiment will turn out. My hope is to make a classic cloche type hat with a brim that is longer in front than in back. I'm achieving the effect with paired increases and short rows. I've moved the stitches onto DPNs and it appears to be working as planned, but I really won't know until I'm done. Thank god for lifelines.