That hat
Melly
, whose
cat
may be Panda's long lost cousin, asked if my new hat pattern could be worked in Koigu. Comparing my current stash of Koigu KPM to the yarn I used in the hat, it appears that the two are a great match. The Koigu is wool, so the hat will have even more natural stretch and the pattern is such that even if the gauge changes a little, the ribbing will ensure that the hat still fits pretty snuggly. I say it's a good choice, but you may still want to consider making a gauge swatch and at least try to get a ballpark match which may mean going up or down a needle size.
In other knitting new (Yes, can you believe it? There's more than one bit of knitting news in my knitting blog. May wonders never cease.) I'm making some nice, though slow progress on the Paco piece. I really need a name for this sucker. Any suggestions?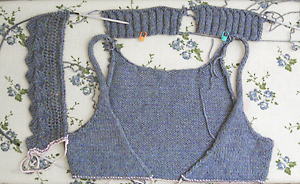 What you see here is the main body pieces, above the empire waist, the beginnings of two sleeves and 8 repeats of the lace. There will be 12 repeats on each side. I find this lace very slow to knit, but I think it will be worth it, in the end. You can see that the sleeves are worked in ribbing, right now. It's a k3, p2 ribbing which I plan to work for several inches until the sleeve would reach the point where the empire waist starts (I'm thinking bottom-up). Then I'll work in STst. I'm also thinking that the rest of the top, from the empire waist, down, will be worked in this same rib pattern. I like the idea of the ribbing, to ensure a nice fit, but I'm worried it will be too busy with the lace. I think I'll have a better idea of how it'll work once I finish and install the lace and the sleeves. I'll add those before beginning the rest of the body, which will be picked up and knit down from the empire waist.
My goal for the work week is to try to get the pattern worked out to reverse that lace pattern and, hopefully, finish all the repeats for one side and start knitting the second side. I don't think I'll make much progress of note until the weekend, because knitting times are few and far between, but we'll see.