Bella Paquita
Thanks for the name suggestions for the paco piece, she's now officially known as Bella Paquita, which I think has a nice ring to it.
And on the topic of Bella Paquita (who has the unfortunate initials: BP) I've made some progress on the sleeves and lace.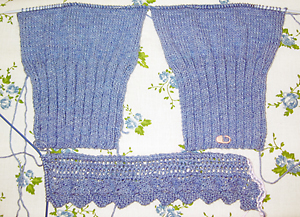 Obviously, the sleeves are in sorry need of some blocking. They won't be big ol' mutton chop sleeves or anything.
As a public service announcement, I'm providing some additional information to all of you, for this most sacred of holiday seasons.
Wear head protection
, via
Dave Barry
Stay informed
, via
Something Awful.
Wear bright, reflective colors.
And of course,
keep a sense of humor
.