Vanessa
Check this out: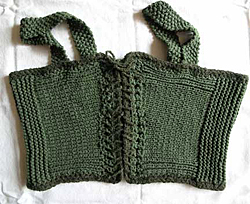 Made by Vanessa, who doesn't have a website for me to link to.
This is what she has to say about her version of the piece:
"I used Aurora ribbon yarn for the main body, but I can't find the label for what I used for the edging :-) It was just some leftover stuff I had. I also did the edging as crochet (not that you can probably tell). It's my "elf warrior" look"
In other news, I started an S&B at work today. Lots were invited but only 3 were able to make it. The 4 of us had a really nice time, though and everyone got lots of one on one attention. I taught one woman to crochet and two to knit and they were all doing great at the end of the lunch...er...hour or so. I was really impressed with all of them and they all expressed having a great time.