More Knitting Supplies
Heaven knows, I have a lot of knitting supplies. You'd think that after falling in love with my
Denise
needles, I'd never buy another pair of knitting needles again. Heck, even if I DO plan to buy more needles, straights wouldn't be a likely choice, since I rarely, if ever use them. But did that stop me from bidding on needles on ebay? Of course not. For $5 I got these: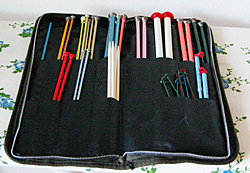 But what the HECK are these: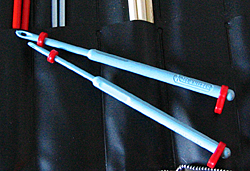 They look like giant sewing machine needles, to me. They say, "K-tel Knitter" on the side. Are they some sort of spare part for a knitting machine? Anyone?
In addition to my ebay stuff, I also received these as a gift for my purple fishnet super secret thing: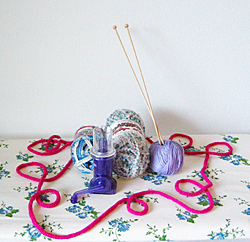 The trim maker: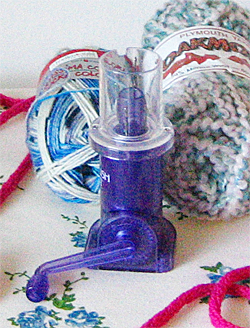 is sort of a crank version of the spool knitter that some of us may have used as a kid. You know, it was a wood or plastic tube with 4 nails or plastic nubs. It basically makes 4 stitch i-cord in lighter weight yarns. I can definitely see some use for it in the future.
As for actual knitting, not much of that happened this weekend. My brother arrived Friday morning at 1am. After we all got some sleep, we set off to pick up the car he came out to get. Our step-father's cousin passed away a little while ago and his immediate family had been storing a Chevy Metro that no one needed. None of us were expecting much, but the car started right up and had only 6000 miles on it. Yup, that's not a typo, it would be six-thousand miles on that puppy. We filled the rest of Friday and Saturday spending time together and then Matt left to drive back to Denver. It was wonderful seeing him.
Oh, one more thing...
I just checked my web stats. Look how many visits I've had to date: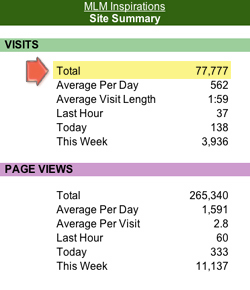 Lucky, indeed, don't you think?
It's a bit like waiting for all the numbers to align on your odometer: slots on a geological timeline.