I love change
If you visit my site with any regularity, you may have noticed a slight make-over. Nothing much, just a color scheme change and a little texture in the banner. I'm sure it will change some more, though nothing that'll knock your socks off. I've also changed my comments, which makes me happy, overall, except that all my old comments are no longer visible. If you happened to have left comments in the past, please don't be sad if they are gone, it's not because I don't love you, it's because I don't love Blogger's comment utility.
Anyway.... Thursday and Friday, I tend to indulge in my video games. Yup, I love my video games, mostly RPG types. We all have our guilty pleasures, and that is mine. The reason I'm telling you this is so you won't feel entirely unimpressed with my progress since the last post.
I finished grafting the casing and it looks perfect. I used my new i-cord maker to spin off some ties and I've started the tongue.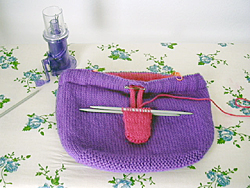 It's knit in the round using the
2-circulars method
, but with dpns, instead. The ends of the ties will attach to the bottom of the tongue on the inside, which is what I'm sort of showing here. Just picture a slightly longer tongue.
And, in case you think I've abandoned the Tesla piece, altogether, here主' a picture of my progress so far.
It looks pretty much like it did before, only a little longer. I've ordered some findings for the purse closure that I hope will arrive in the next day or two. I didn't want the purse to be one of those that didn't have the structure to hold itself up, so I am experimenting with installing some hardware around the opening which will also be the point at which the strap is attached. I'll be able to communicate that more coherently once I have a picture to show you.