Something Like a Shrug
I really need to model this, as flat, it just seems so, well, flat, but I don't have time right now, so try to use your imagination.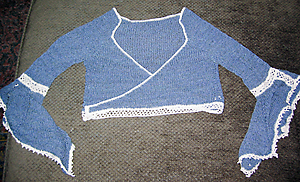 Click the image to see a larger view of the piece.
It's a glorified shrug in that it's really just meant to keep one's arms warm and would be worn over something else. I suppose a more brave woman than I could wear it alone. It's basically done, I'm just finishing up the closure. I may make some small accent to cover up the little overlap and hook and eye but, for all intents and purposes, this piece is done. When I can, I主ll post a picture of me in it so you can really see what it should look like.
In other news, I have this lovely yarn in my possession.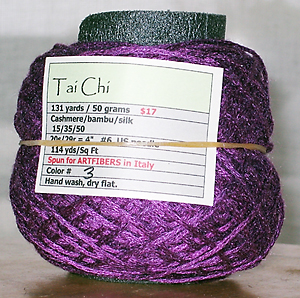 Can you see the yarn makeup? That's Cashmere, Bamboo and Silk.
It's not actually as shiny as my flash would have you believe, but the color is fairly close. It's a lovely plum purple shade.