Weekend Adventures
Saturday night we went out with our friends to listen to another friend,
T-Bird
spin in Venice. I just need to shamelessly plug him right now because every time we've gone to one of his gigs we have an absolutely incredible time.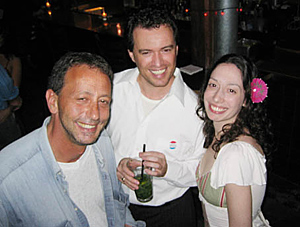 This picture shows
Vinnie
,
Leo
and me. That's a cocktail umbrella in my hair. One of our other friends, Jason, pointed out that they make excellent flowers when inverted. I think I pull it off nicely.
Now for things knitting related. I've been swatching Paco. I could swatch this yarn forever and never have a final piece to show for it. The cotton and alpaca mix make it great for just about any stitch combination. Here's what I've come up with so far.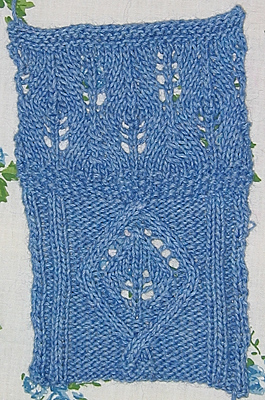 I'm thinking about doing a piece with ribbing and cables up to the chest, a few rows of seed stitch and an openwork area above the seed stitch. This might be too busy, so I'll refine it a bit. I'm still working on the mouse piece as well, but the pictures just aren't that interesting right now.