Hats are easy
I make hats all the time. They are the first project I started when I got back into knitting a couple years ago. I can make a hat in my sleep and yet I've ripped out this hat I've been working on three times. This would be one of the two projects I've begun as gifts to a couple of friends' daughters. The hat in question is an infant sized version of
this hat
. I'm using a different yarn at a different gauge in a smaller size than called for in my original pattern and my first couple of attempts just weren主t producing the right shape to stay snuggly and comfortable atop the head of a little cutie. I think I have it now, but I was starting to feel a bit less than friendly towards the project. It's not much to see right now, so I'll simply post the flower that will adorn it.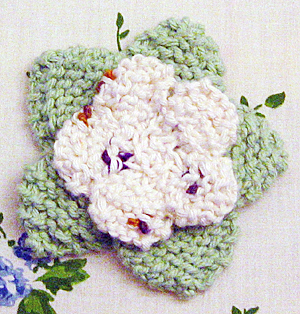 It's made with yarn from my most recent order.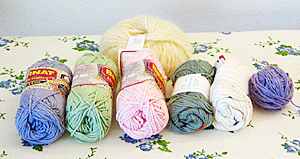 The image doesn't really represent the color perfectly, but I got some plain cotton in spring green, purple and pink, and some flecked cotton yarn in spring green, purple and white. The little hat is worked in the flecked purple yarn with the flower above and the rest of the yarn will be worked into a little poncho for the other girl. There's also a little mohair blend there that I got to round out my order and play with a bit. I'm not sure what I'll do with it, I guess I just needed to own that much more yarn. I don't have a problem, I can stop any time.