For any of you that feared I might be wracked with malaria or some other such disease, fear not. I've been fighting a fever, cough and general run down feeling which may possibly be strep throat, but I've been taking it easy and getting lots of rest, and am already starting to feel better. Saw the doctor on Friday and will know on Monday if it's strep. As a side note, does anyone else have the hardest time with those giant q-tips being jammed down their throat? Man alive!
Between vegging out on the couch watching cartoons, and sleeping, I was able to snap a few photos of my Peppy Long Stockings in all their glory. Here are the pattern notes as well.
Pattern: Peppy Long Stockings
Designer: Me (but based on your every day toe up sock with short row toe and heel)
Yarn: Unknown. It's a self striping sock yarn but I've long ago lost the label. It came in a 100 gram skein, 94 grams of which were used to make the pair of socks. If anyone recognizes the yarn, please let me know.
Needles: Started as 2 socks on 2 circs, switched to DPNs, all in size US #2
I didn't do any shaping in these socks and they fit fairly well. They are a touch baggy at the ankle if I stand on tip toe, but otherwise look pretty cute.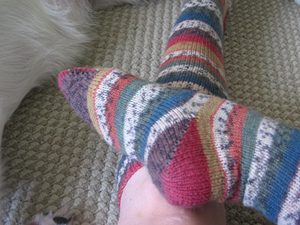 It managed to work out pretty well with the toe, heal and top of the socks coming out in red. It wasn't planned, but it is exactly what I'd want to happen.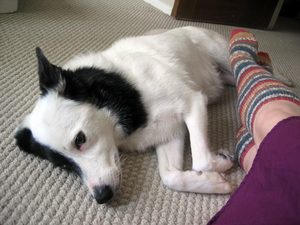 And what's a photo shoot without my little glammor girl?