I could throw out the now ubiquitous term "knitting porn" but I wouldn't want to sully these amazing images that way. This is definitely high class burlesque.
My friend Bill did some consulting for a company in an old mill building in NH. Inside, they had this knitting machine.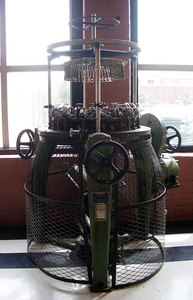 It's a Vanguard Supreme, and I can't stop looking at it. Versions of it are still made today and it appears to be used for knitting things in the round.
If you are as smitten as I am, take a look at the rest of the peep show after the jump.