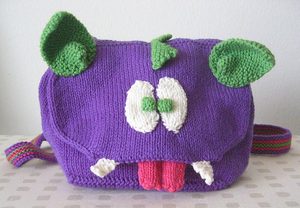 I don't think I could have gotten a more positive response to good ol' Drake, if I had bribed you guys. So, I've cleaned up the pattern, fixed the typos (I hope) and posted him for sale.
People have made some great suggestions for modifications and variations. One I like in particular was to convert him to a messenger bag. While I no longer have the yarn or even the dyelot numbers to do that, I think it's worth mentioning for anyone who might be considering making one for themselves.
Curses
Next up, a possible exercise in futility. I want to knit Leo a sweater. I do this with a great deal of trepidation. Leo is not a fiber artist of any sort. He switches between calling it "sewing," "crocheting," and "knitting." When I wind, spin or knit yarn, his general thought is "Aren't there machines to do that?" I do not begrudge him this. He takes no end of joy in
things that bore me to tears
.
I have knit Leo a boatload of hats and I've even knit him a sweater before. He is always appreciative, but I have never knit him something he is totally satisfied with. The perfect item will always be lace weight thin and softer than silk, while still being manly in every way. Colors? Sure, as long as it's grey, brown, navy, or black.
So why do I want to knit him a sweater despite the fact that he hasn't asked and I'm pretty sure he won't be entirely content with it? Well, I want to design a few men's garments, to fill out my pattern portfolio, and I think the design is one that marginally less picky men will like, but I also can't help myself. I think he's pretty darned wonderful and knitting is about the most special thing I can do for him, so dammit, he's getting a sweater.
I started with a trip to the LYS where I got 4 skeins of yarn.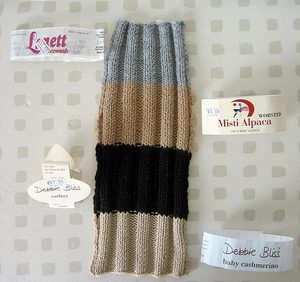 All were dubbed "a little thick." But I informed him that it would just have to do and he could wear it when it's colder out. I love him, but I'm not knitting a sweater on needles smaller than US #3.
So he began the feel test.
The top was the finest, but the superwash merino just wasn't soft enough.
The alpaca was soft enough but too thick
The Cathay was dismissed out of hand. No interest there
The last was the Baby Cashmerino. Thin enough to be acceptable, soft enough to pass the test, and if bought in a different color it would do.
So I shopped online for some good colors and prices. I know my LYS doesn't carry the quantity and color selection required. Webs had the best price once the discount was applied and I made my order.
In the mean time, I swatched.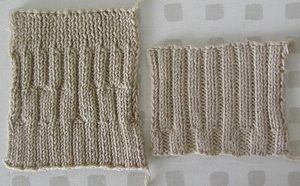 Yup, the whole thing will be in ribbing. May the knitting gods grant me the strength to finish this baby.
Both swatches have been through the washing machine and laid flat to dry so I know the yarn will survive his general MO for washing sweaters. And yesterday, after about a week of waiting, the yarn arrived.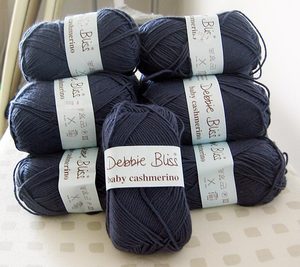 That's 13 skeins of grey/blue Baby Cashmerino.