I could throw out the now ubiquitous term "knitting porn" but I wouldn't want to sully these amazing images that way. This is definitely high class burlesque.
My friend Bill did some consulting for a company in an old mill building in NH. Inside, they had this knitting machine.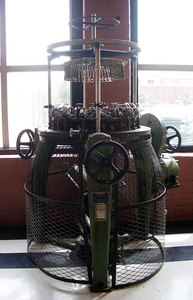 It's a Vanguard Supreme, and I can't stop looking at it. Versions of it are still made today and it appears to be used for knitting things in the round.
If you are as smitten as I am, take a look at the rest of the peep show after the jump.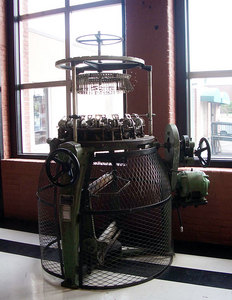 Couldn't you almost imagine this in the corner of a large living room, like a pot belly stove? Imagine how light would filter through it's mesh exterior. If Leo is reading this, don't worry, I do NOT plan to buy myself one. I have no plans to become the knitting equivalent of Jeff Foxworthy, parking old knitting machines up on cinder blocks in the yard.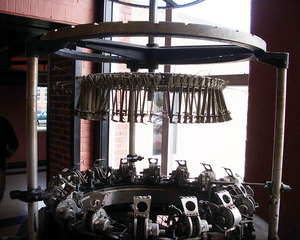 I'd really have to see this up close and personal to figure out exactly how this all works. I assume there are sets of hooks inside that knit and purl stitches, though it would be wonderful to watch someone set one of these up and get her going.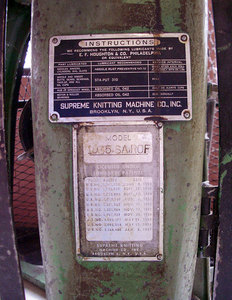 Here's a detail of the instruction and patent plate. From the looks of it, this machine hails from the late 30s or early 40s. It's amazing that the machine still stands, many years after the mills were converted to offices.
I'm sure the new machines work well and have their own charm but I love seeing this little slice of history.
Special thanks to Janet Levy and Bill Sconce for sending me the images. Images copyright Bill Sconce.