I got so many great comments and even more votes in my little poll. It appears that around 62% of folks that voted like the cardi as it is. However, most commenters leaned more towards softening or modifying the ruffle. I think, based on the feedback, I'll keep the piece as is for now. It seems like most of the people who didn't love the ruffle are not ruffle kinds of people anyway. What can I say? I'm pretty girly sometimes. I'm also working on a matching camisole with no ruffle, to wear with the cardigan. It's a simple square neck, fitted piece with a very simple crochet border that should compliment the cardigan without making the whole thing too busy. Yes, I know, a good blogger would have a picture. Sorry about that.
This weekend, I also learned that Deciduous likes to go out dancing. Want to see pictures? Check 'em out after the bump.
Leo and I met up with one of Leo's colleagues at a club called Spundae. Leo and I had been there a bunch of times in the past, but it's been a few years. His colleague had free passes so it seemed like as good a reason as any to go.
We got there a little early to avoid the lines, which meant we could scope the place out and enjoy a light beverage. At one point, Leo asked for the bartender's suggestion for a drink. He gave us something called a Jolly Rancher. It tastes like a liquefied apple jolly rancher. I didn't care for it, but if that sounds appealing to you, you now know what to order.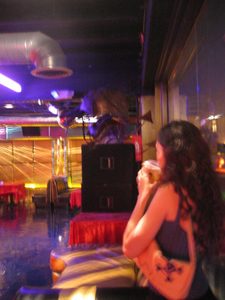 Here are my partners in crime for the evening.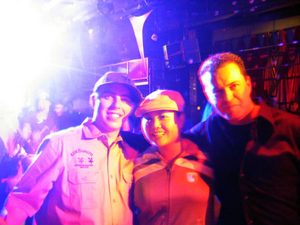 How about a fun game of "Where's Marnie?" Deciduous and I are having a little dance here. It looks like I might have two heads in this shot. That would allow me to wear twice the number of hats, so it wouldn't be all bad.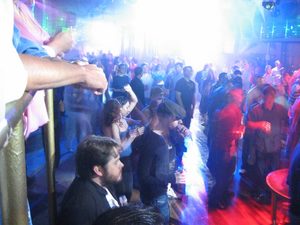 And here I am with my handsome man.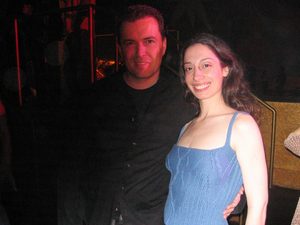 We left the club around 1 AM, popped over to Santa Monica to hit an all night diner for some munchies, and headed home to bed.
The last thing I learned this weekend is that I am a weak weak woman. Look what I ordered: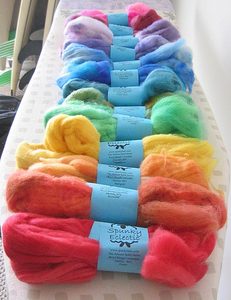 It's the sampler pack from Amy's Almost Solid Series. After this, I'm cutting myself off from any further fiber purchases until at least summer. Unless I get a wheel, there's no way I can even make a dent in my collection.