Thursday, December 01, 2005
Getting into the swing of things
Commuting to work with Leo is great, but the change in my morning "system" is taking some getting used to. I didn't think I had a system, I thought I just did whatever and then headed off to work, but apparently, I'm fairly structured, unbeknownst to the only person it ever effected: me.
It used to be that I got up at 4am, brush the teeth, pee, pet Miss Panda, water for tea, feed Miss Panda, sit and begin to blog or, on none blog days, read other peoples' blogs. Between 5 and 5:10, Miss Panda gets her walk. I come back, attempt to get beautiful, surf the net until 5:53 when I would leave to catch the bus. I'd listen to my iPod and if I had enough room to do so, knit.
Now, things are different. I get up at the same time, but now we're bringing lunches and breakfast with us to save money (yay!) but that eats up a lot of morning.
"Marnie," you might say, "Can't Leo make those?" Sure, and I'm positive he'd be happy to do so, but Leo, he is not much of a morning person and I'm not sure I want to find out what that would mean for our lunches. Plus, I think I might be just a touch picky about how my sandwiches are made. I would consider myself high maintenance except I'm happy to do the work myself, so there you go.
What I'm getting at is that blogging has been less frequent and I haven't been doing much knitting on the bus, so please excuse my lack of exciting content lately. That said, let's get to my exciting content, already.
I've been fitting in a little spinning and swatching.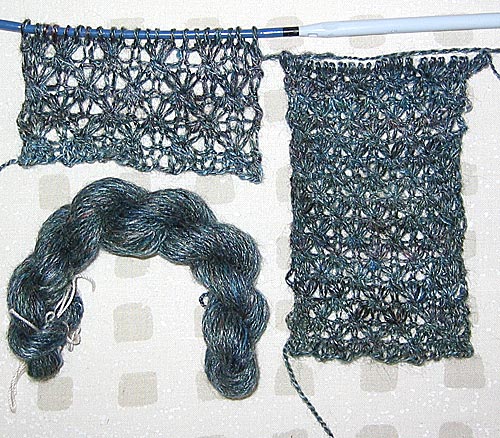 Here is more of my silky roving and I've knit it up at a much larger gauge to see what I think. The tighter gauge swatch has been sitting in a bag since my last post about it and is a little less airy, but I think it's still clear that the gauge really effects the scale of the motif (yah, duh). The stitch itself is quite interesting, actually, knit tightly and unblocked it's a great textured stitch. Then blocked out, it's beautifully light and airy. I'm definitely inspired to do something with it. What? I'm not so sure.
From my spinning friends out there, I would love any tips you have on getting going again after you drop your spindle. Especially when I'm spinning fine yarn and already have quite a few grams of spun fiber on the spindle, I find myself really strugglign to get the spun end reattached to the unspun fibers. I try to fray the ends and ease the new fiber into the old, but I find that no matter what I do, there are times that new fiber just won't hold, and it's often the point that I end up deciding to give up and ply what I have and start anew. Any suggestions?
Over the weekend, I worked up a really simple little top.
It's actually got a very deep scoop neck, which is not very evident right now. There are princess seams and just a bit of contrasting ribbing at all the edges. This is the Maratona yarn which I originally planned to make a stripy top out of.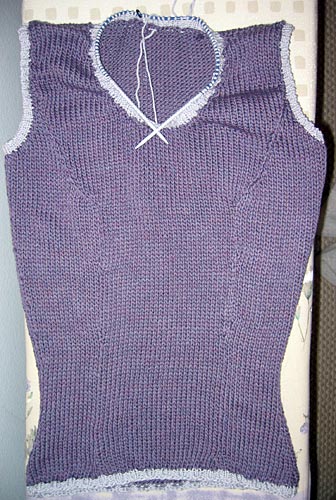 Now, I can hear a few voices out there already. "You made that THIS WEEKEND?"
Yah, I had a little help from a friend, though....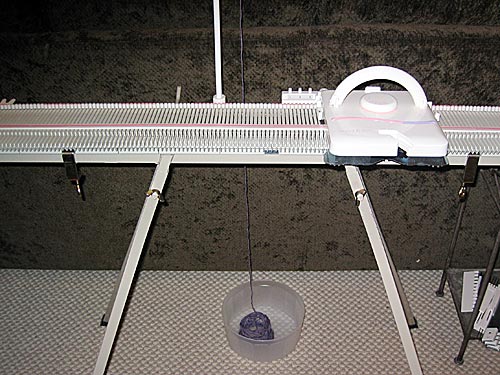 All the ribbing is hand knit but everything purple was done on my good ol' LK-150.
And here is my little purple corset, working up slowly but surely.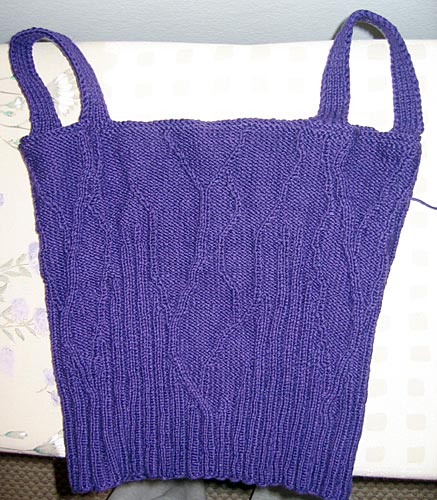 I tried her on and the fit is amazing. It's got a bit of negative ease, but since the yarn is Calmer, it actually has a some support (for, you know, girl bits), so the low back isn't an issue. The previous version was looser, and while I'm very happy with it, I'm not sure I could have worn it out. This actually has more potential. And now that I'm finalizing it, I have a better idea of how I want to write the sizing instructions for the pattern.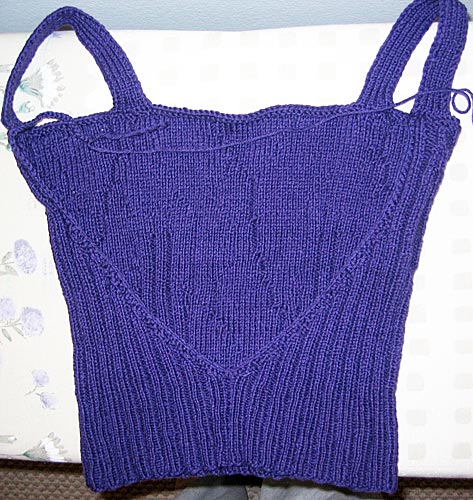 I am probably going to need a person or two to test knit this. If there is anyone out there who is interested in test knitting, send me an email at marnie (at) marniemaclean dot com.
Um, I also bought myself some yarn, you know, because I don't have enough. It's KnitPick's
Alpaca Cloud
in a soft blue and a light brown shade. Both are heathered and, dear lord, so soft I can hardly stand it. I have five skeins of each and, man oh man, did I mention they are soft?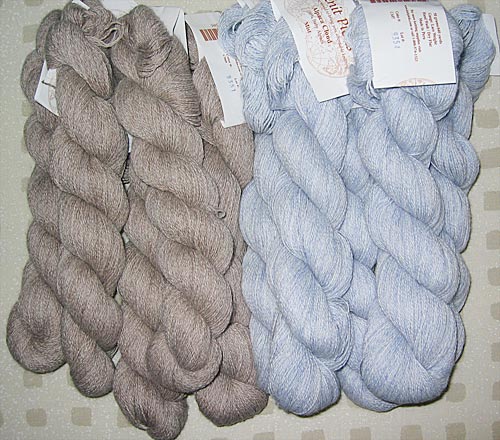 Not sure what they'll be yet, but I was thinking about holding them double stranded (of the same color) for a garment of some sort.