Thursday, September 08, 2005
Interlude of a Knitting Persuasion
The rest of the hiking story will be back soon, but first, a brief check in on
Hopeful
.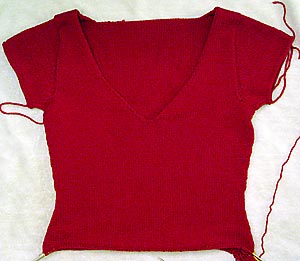 Let me tell you, I like the color of this piece, but it is hard to photograph without proper lighting. Anyway, as you can see, all the major parts of the piece are knit and I've taken out the provisional cast on to start a border at the bottom.
I have never had such a hard time deciding on a design element. The piece, as it was originally intended, has very clean and simple lines. While the look is feminine, it is so without being overly girly. I want to keep some of that feel, without having the design features that do not suit me. As both
Miriam
and
Mary-Heather
have confirmed, some design elements just aren't great for big bootied girls.
After several days of fits and starts, I am one pattern repeat into a border I hope will work.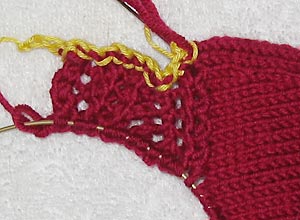 She doesn't look like much yet, but I'm hoping it'll work out. You can see I'm employing the provisional cast on, once again. The hope is that I'll be able to graft the last row of the border to the first and keep the seamless nature of the sweater. If this attempt doesn't go well, I have two other options I may consider.
A simple turned hem with, perhaps, a picot detail. This would be clean and simple, but probably a bit bulky for this yarn. I also don't want the bottom of the sweater to tend towards flipping up riding up unattractively. I think a hem risks this more so than a border.

A very simple cabled border. I'm reluctant to do this for the same reason I'm reluctant to use the original border suggested. It will still be a bulky, largely horizontal design element in a location where streamline details are best. Additionally, it might be a bit fussy for the piece. But the lines will be more forgiving then those of a straight horizontal garter rib so it would be a viable option. The one in particular that I am considering is this one.

From
Knitting on the Edge
. Of course, no fringe for me.