Saturday, August 27, 2005
You can't always get what you want
I bought the pattern for
Hopeful
and used a gift certificate, a friend gave me, to purchase some yarn for the piece. I scoured
Knitter's Review
for a good option.
This page
, solidified my decision.
I ordered my yarn from
Yarn Market
, in a shade called "Plum".
Here
's what it looks like. Pretty, no?
A few days later, I came home to a box with just the right return address and just the right weight to be a box full of merino goodness. Want to see my yummy yarn?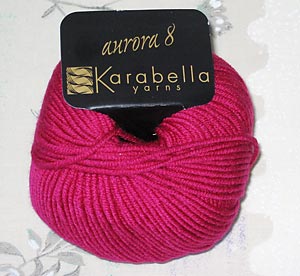 Yah, your monitor is correct, that sure as heck ain't "Plum". Actually that shade appears to be Fushia. I know I could send it back for the right color, but, to be honest, I'd rather start swatching. I can certainly wear the color and I've been trying to get myself to move beyond shades of blue, green and purple. Might as well dive in head first, right? And, before you ask, yes, I did write the folks at Yarn Market to let them know about the mix-up. I haven't heard back from them, which surprises me, but I did let them know.
For any of you who are interested, there is a KAL for Hopeful. I made a little button for it. Look to your left, it's in the sidebar.
The rest of my knitting has been stuff I can't really share right now. I should have that all in order shortly at which point I'll be able to do more public knitting. Besides Hopeful, which will be my bus knitting for a little while, I have some
Optimum
just itching to be made into something gorgeous and two lace weight yarns (a smooth green merino and some gorgeous blue mohair) that are begging to be made into a wrap. We'll have to see where inspiration takes me.