Wednesday, August 03, 2005
Been finishing what I've started
There's no doubt about it, a finished object is a wonderful thing.
Hot off the needles, the second Wyvern sock is done
I want to give it a light blocking and then I'll get some pictures of them both on. The written pattern won't be far behind.
Additionally, my knitwear class has been progressing along well. I knit this piece last week.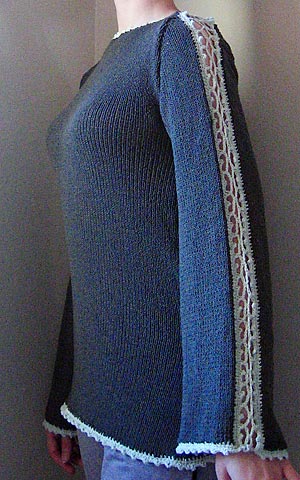 All the knitting was done in a single 3 hour class, but I didn't account for the amount of weight the piece would have so it's much longer than I expected. It has a good memory so the yarn bounces right back when I take it off, but put it on and it's a tunic.
I'll probably shorten it at some point and re-crochet the hem, but for now, I kind of like how comfy it is. The crochet wasn't nearly as quick to finish, but it was worth it.
I'm now working on a design for the remainder of my yarn. I re-calculated gauge based on the number of rows per 4" when the piece is on. I am averaging the difference since the next piece will be tighter and shorter. Live and learn, I say.
Oh, and my mom has offered to buy me a machine of my very own. I'm very excited. I don't think I could fathom giving up good old hand knitting. I really love it and I find myself fidgety and unhappy when I'm too far from needles and yarn, but the thought of being able to produce designs for publication in a timely fashion seems like a great boon. I see that application and gifts being the primary use for the machine.
And for something completely different, check out this
paper airplane
tutorial. I love it!