Monday, July 11, 2005
Giving my new blocking pins a spin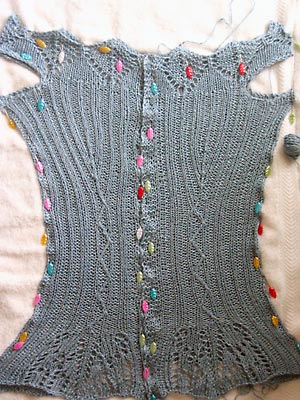 I'm done knitting the corset, though I may have to rip out the bottom couple inches, there. There were some problems with the lace charts that I hadn't noticed until someone posted about them on the KAL recently. I want to see how it looks once it's dry. I'm not sure I totally mind the wonky lace, but the compulsive side of me thinks I'll notice it more and more and end up ripping. Anyway, here she is, pinned out to her proper proportions so she looks less like a garment for the emaciated Lindsey Lohan and more like something for a woman with some proper meat on her bones.
Hey, remember my friend who had the tiki wedding reception recently? Well, work had her going to Belgium recently and she brought me back some Kinder chocolates with a Spongebob theme. I haven't opened them yet, but I'm looking forward to giving it a try.
And, last but not least, I have some doggy love for you. Can you believe it? There is not a hair of Panda to be found? I promise, it'll still be worth your while.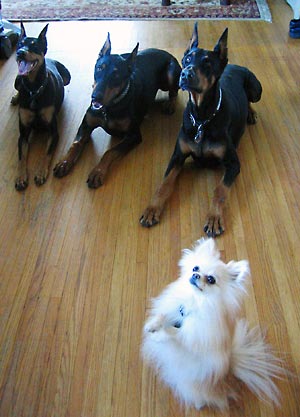 In back, from left to right, there's Mina, the new boy, Zeppelin, and Draegin there on the right.
In front is the sweet Lestat doing a "beg up" for the camera. If you are a sports fan, Draegin and Lestat did a commercial of some sort, which aired mostly on sports channels, where a person throws a frisbee, Lestat latches on and Draegin goes to catch it. I haven't seen the commercial, but I was hanging around while Chrissy was doing some of the prep work for it.
And, Lestat's younger brother, Beowulf, recently stared in a commercial in which an annoying woman chatters on in the front seat of a car while an obnoxious puppy harasses the man in the back passenger seat. At some points he shoves said puppy through the ski pass in the rear armrest and the dog is silenced.
As you can see, my days are regularly filled hobnobbing with stars.